International
Iran
The arrival of a convoy of Iranian fuel tankers broke the economic siege of Lebanon – Mehr News Agency | Iran and world's news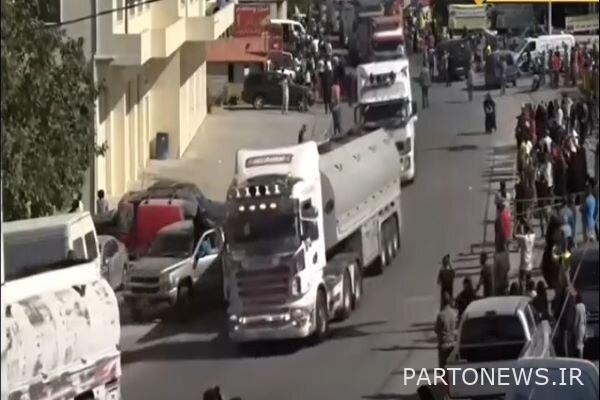 According to the Mehr news agency, quoting Al-Ahd, the gathering of Lebanese "Akar" scholars issued a statement regarding the arrival of the fuel tanker convoy of the Islamic Republic of Iran to Lebanon yesterday.
The arrival of the fuel tanker convoy from the Islamic Republic of Iran to Lebanon disrupted US calculations and shattered Washington's economic siege of Beirut, according to a report by a gathering of Ukar scholars.
The religious institution in Lebanon continued its statement by thanking and appreciating Seyyed Hassan Nasrallah for importing fuel from Iran, saying: Seyyed Hassan Nasrallah once again proved that he is a strong and stubborn person and he fulfills his promises.
"We appreciate the Islamic Republic of Iran, as well as Syria, for assisting in the arrival of the fuel tanker convoy to Lebanon and for breaking the economic blockade of Beirut," the statement said.
It is worth mentioning that a convoy of fuel tankers arrived in Lebanon from Iran yesterday and was welcomed by a large number of Lebanese people. The arrival of the Iranian fuel convoy to Lebanon provoked several reactions.
In this regard, the Minister of Labor of the new Lebanese government also stated: With the arrival of convoys carrying Iranian fuel to the country, a historic and cruel siege was broken. Meanwhile, Seyyed Hassan Nasrallah had issued a message on the eve of the arrival of Iranian fuel convoys in Lebanon.
The Secretary General of Hezbollah in Lebanon said in the message: "I learned about the people and the media in the Baalbek Al-Hermal area in order to welcome the arrival of the convoy of fuel tankers." I am aware of the great and sincere support of our honorable people with this step.
Seyyed Hassan Nasrallah added: "First of all, I thank them for this support and welcome." Secondly, I call on them and the responsible brothers of Hezbollah in the region not to hold any public gatherings during the passage of the caravan in order to maintain the health and comfort of all and to facilitate the transfer process in the best possible way.
.