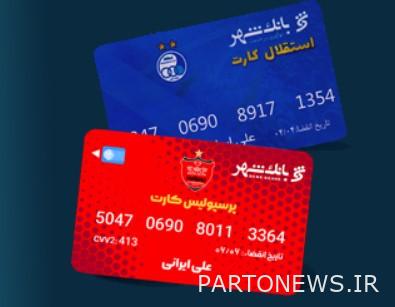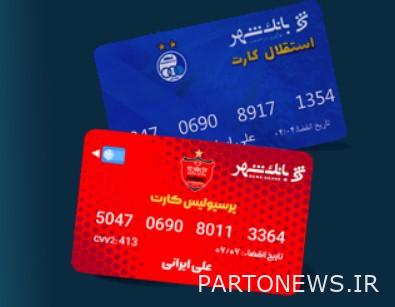 According to the financial news report, quoted by the public relations of Bank Shahr, Reza Qanbarzadeh, the director of market research and development of Shahr Bank, added: In this regard, the fans of these two teams can receive a fan card of their favorite team, without paying any additional fees and only with Increase the balance of the account, while doing daily banking and financial activities, support your popular teams and create a stable and continuous income for these two teams.
Qanbarzadeh clarified: In order to facilitate the process of receiving these cards for the fans, Shahr Bank for the first time in the country, the possibility of opening an account and receiving fan cards of Esteghlal and Persepolis clubs in absentia through the "Hamrah Shahr Plus" software and It has provided delivery to all parts of the country and delivery to the desired location of the fans.
He continued: In addition, fans can receive Esteghlal card and Persepolis card by visiting any of the branches, counters and towns of Shahr Bank in person.
The director of market research and development affairs of Shahr Bank stated that in the design of these cards, an attempt was made to use the unique colors and features of two popular clubs, and emphasized: According to the agreements made with the clubs, these cards have the ability to become "fan identification cards" and will be a tool to organize and introduce fans to their favorite clubs in order to benefit from the benefits of "Loyal Fan".
Qanbarzadeh said: while using these cards (as an accelerated card), in addition to banking benefits such as receiving interest, receiving facilities based on the average account and all kinds of banking services in person and offline, they can also enjoy the benefits of being a fan of the club. to use
Director of Market Research and Development of Shahr Bank, "Possibility of top fans attending based on points earned at the training place and visiting the club", "Presence of top fans based on points earned at club events and gatherings and taking souvenir photos with team players ", "Presenting a thank you card, club game balls and sportswear signed by popular players to top loyal fans", "Presenting club shares to top loyal fans according to the points earned", "Introducing 10 top loyal fans to attend In the VIP position in the selected matches" and … among the most important benefits that Esteghlal and Persepolis clubs have considered for their loyal fans.
He added: Shahr Bank is also trying to provide diverse and extensive economic benefits to the fans of these two teams by using the capacity of its subsidiaries.
Qanbarzadeh continued: It should be noted that Shahr Bank has the necessary preparation to negotiate and cooperate with other companies in order to complete the basket of special services that can be provided to the fans of Esteghlal and Persepolis clubs in order to enter this dynamic economic cycle and promote the economic interests of all stakeholders.
In the end, the Director of Market Research and Development of Shahr Bank said: "It is hoped that with the participation and companionship of fanatical fans, businesses and economic activists in various fields and all elements of the country's sports, we will witness income stability and financial strength for the two most popular clubs in the country."