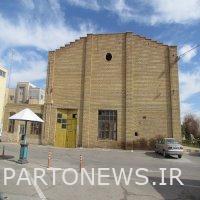 Yazd Power Factory was established in 1306 Bahamat (Kaykhosro Tirandaz) and after that, with the pursuit of this Yazidi Zoroastrian, in August 1309, the installation of technical equipment of this factory was completed.
In 1309, a 50 kW generator was installed at the intersection of Masjid Jame and Imam Khomeini streets. Yazd came and the city lights came on.
The space of the engine room, which is the only remaining space of this factory, has been registered in the list of national monuments of Iran under No. 32844 in 1400. It enters a little into this space. Connecting all the parts of this structural system with bolts and nuts, which is very similar to the electric motor of Iqbal factory, is one of the interesting points of this structural system of this space.
The simple brick covering of the perimeter walls and the brick blocks used in their upper part, the toothed decorations in the shape of the end edge of the eastern and western sides and the prominent brick ridges are also among the decorations of this building.