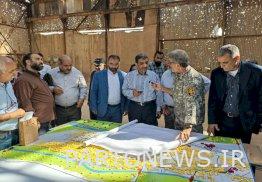 "This museum is a symbol of Saddam Hussein's brutal behavior, which was supported by global arrogance in the imposed war," Engineer Seyyed Ezatullah Zarghami was quoted as saying by IRNA on Thursday, July 23, 1401.
He continued: "Abadan is really oppressed, especially the garden of the Museum of Sacred Defense, which, despite the refinery and the Arvand Free Zone, unfortunately does not have the least amenities."
"The courage of the warriors and martyrs of the eight years of holy defense must be passed on to the younger generation," said the Minister of Heritage, Culture, Tourism and Handicrafts, who described the site as a heritage site for people to visit to see what happened in the war. "This place is in a good position, which has been turned into a museum of sacred defense with the efforts of the IRGC and the refinery."
"To attract tourists to this museum, an investor is needed, while there is a good pier in this place, and we are looking for the necessary permits from the General Staff of the Armed Forces to set it up," Zarghami added.
The Minister of Heritage, Culture, Tourism and Handicrafts said, "The establishment of a recreational pier in this place can add to the tourism capacity of the region, while the memory of the martyrs of eight years of holy defense will be revived."