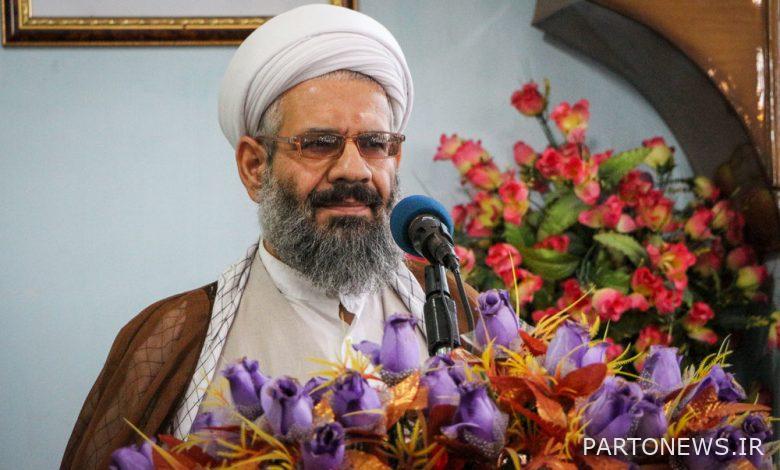 According to Mehr reporter, Ayatollah Javad Hajizadeh added in his sermons for the Friday Ahar prayer: Imam Rahel and the position of Supreme Leader stood like a mountain in front of global arrogance during the revolution. The enemies should not think that the Islamic Republic is afraid of them, it is not like that at all.
Imam Juma Ahar Babian said that the youth of the resistance force in Islamic countries are standing empty-handed in front of the Americans: removing the American domination from the Middle East is a promise that will be fulfilled and we will see the day when the Americans will be expelled from the region.
Appreciating the presence of the people of Ahar in the ceremony of Fatemiyya Days, the anniversary of the martyrdom of Hajj Qassem Soleimani and the burial of the body of the unknown martyr, he said: The presence of different sections of the people showed the insight of the people against the propaganda of the enemy.
While congratulating the day of honoring the mothers and wives of martyrs, Hajizadeh said: the role of mothers and wives is no less than that of martyrs, the children whom these mothers raised and handed over to the society stood against the enemy for 8 years.
Mentioning that the hijab is one of the roots of the Islamic revolution, Imam Juma Ahar said: During the Pahlavi regime, people's uprisings started from insulting Imam Khomeini (RA) and the hijab, and with the formation of bloody uprisings in the provinces, the ceremony of the 40th Martyrs of the Revolution led to the victory of the revolution. And the collapse of the Pahlavi regime.
Referring to the commodity and gender view of the westerners, he clarified: while the westerners claim to defend the rights of Iranian women, they themselves have a commodity and gender view of women. The view of Islam and the Islamic Republic system on the status of women was recently explained by the Supreme Leader and it was emphasized that there is a difference between women with hijab and weak hijab It is not and all our girls are.
Hajizadeh continued: In the recent riots, the enemies did everything to provoke the women wearing the hijab to reveal the hijab, but the women hit the mouths of the instigators and the enemies with a strong fist. This shows the religious zeal of Iranian women. Even Iranian women show their authority in the sports fields to the faces of friendly and enemy countries.
Imam Juma Ahar stressed that the Zulfiqar exercise had a message for the enemies to get rid of the thought of attacking Iran's borders, and noted that Iran's armed forces are ready and alert against conspiracies. If the enemy wants to attack the borders of the Islamic Republic of Iran, the armed forces will give a crushing response Drones They face advanced Iran.