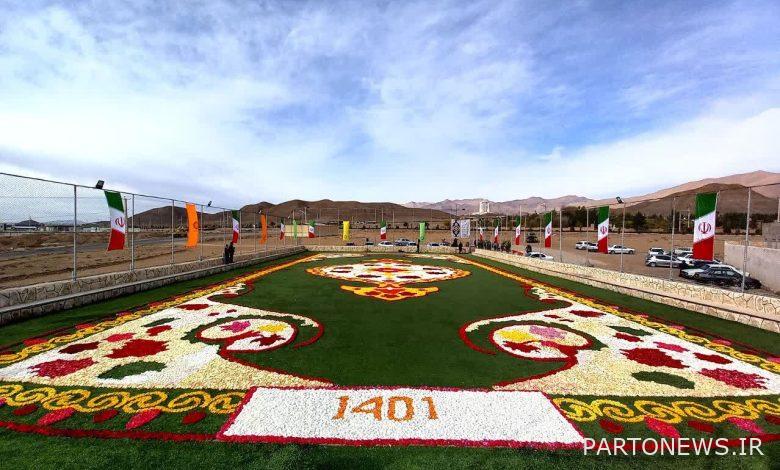 According to IRNA reporter, the head of the Islamic Council of Mahalat city on the sidelines of this ritual in an interview with IRNA, said: The fifth flower carpet is 20 x 40 using 200,000 heads of various types of chrysanthemums, roses, daffodils, Ahar and silver cloud. It is decorated and spread as the largest Sargol carpet in the Middle East.
"Mohammad SalehiHe added: In other flower carpets, plantable and potted flowers are used, but in this carpet only flower heads are used and the difference of this type of arrangement has doubled the beauty of the work.
The head of the Islamic Council of the city of Mahalat said: beautifying the urban appearance, increasing the vitality and visual vitality of the citizens, and describing the manifestations of beauty and creating attractive phenomena and encouraging tourists are among the goals of spreading this flower carpet.
Salehi said: The fifth Gul Mahalat carpet has been exposed to the eyes of those interested from today until the 27th of November this month.
Malahat is the largest city in the country in terms of cultivated area and production of flowers and ornamental plants.
18% of the country's flower cultivation area, 12% of the cut flower production in the country, 80% of the production of seasonal flowers, 21% of the production of ornamental trees and shrubs and 14% of the houseplants of the country are in localities.
The production of 350 different types of ornamental, apartment and green space plants has turned the localities into one of the hubs of growing and trading flowers and plants.
Mahalat, with a population of 50,000 people, is located in the south of the central province and is famous for Iran's flower roofs and a hub for the production of stone, ornamental fish and knitwear.