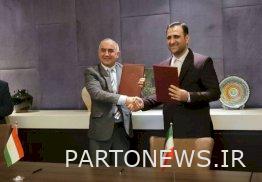 According to the report of Aria Heritage reporter, Ali Asghar Shalbafian today, Friday, November 20, 1401, in a meeting with Tajuddin Jurizadeh, the head of the Tajik Tourism Committee, Kamaluddin Momenrah, the first deputy head of the Tourism Committee of this country, and Salim Dolatzadeh, the director of the international events department of the Tajik Tourism Committee, called for the strengthening and development of cooperation between the two countries. It was in the field of tourism.
In these meetings, the tourism officials of Iran and Tajikistan emphasized on the development of tourism relations and based on the meetings they had before, it was emphasized that the meetings led to contracts and operational plans between the private sectors and by facilitating and removing obstacles to the ways of cooperation between the two. The country should be strengthened in the field of tourism.
In this meeting, there was also a discussion about tourism cooperation, especially the exchange of tourism information, especially the information of the private sectors of the two countries, health tourism, the transfer of Iran's experience to Tajikistan in the field of hotel management, standards, etc. Tajik colleagues in Iran should be held as a webinar or in person.
In this meeting, the officials of the Tajik government introduced the private sectors of Tajikistan, including hotels, recreational and tourist places, and health villages, and it was decided to introduce these capacities more precisely in the tripartite meeting between Iran, Tajikistan and Uzbekistan.
In this meeting, regarding the establishment of flights between the two countries from Mashhad and Tehran to Dushanbe city, which is carried out two days a week, Tajik officials requested to facilitate flights and reduce rates with the aim of increasing the number of flights.
The cancellation of visas for both sides in order to attract more tourists and facilitate road and rail travel was the next focus of the meeting of the tourism officials of Iran and Tajikistan, which emphasized the implementation of attractive and new solutions in the field of tourism, including storytelling and introduction of culture, history and civilization between two countries to be done.