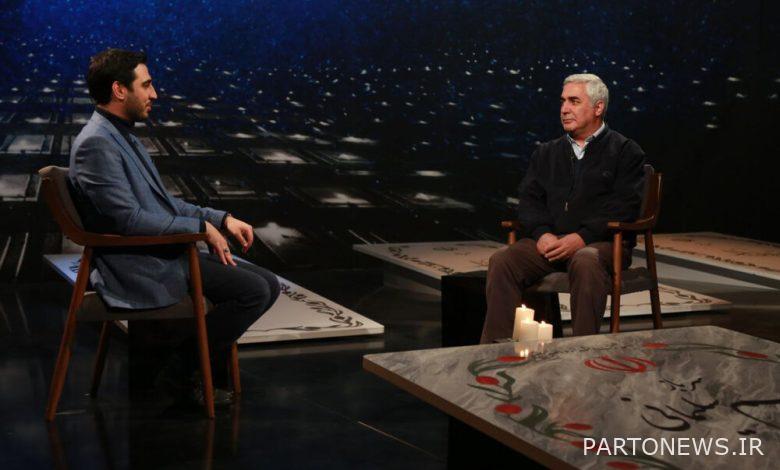 According to the Mehr News Agency, citing the public relations of this program, Hatamikia said about how she met Sardar Soleimani: I spent four decades of my life in cinema, and when the war ended, I had something to say, but suddenly this is a problem for me. What else do we have to say? … I saw the children I knew, each of them scattered in a way, and some entered politics, some entered the economy, and some went to the barracks; I didn't see this horizon and ideals more than this stuck And I was discussing what should be made into an issue from here on until the issue of Haj Qasim came up.
This director continued: I felt like I was suffocating Coming and it seems that this is Haj Qasim Breath opened That is, when the issue of the axis of resistance, Syria and Lebanon was raised, he entered the field with a different language and literature.
The resemblance of Haider Zabihi "Bodyguard" to Sardar Soleimani
Confirming that I saw Haj Qasim for the first time during the appearance of "Bodyguard" at the Fajr Film Festival in 2014 and the night before the closing ceremony, Hatamikia said: Because I had devotion to him, I tried to portray the face of my main actor (Parviz Parastowi). to be like Hajj Qassem Soleimani. I believe that Haj Qasim was beyond the role of Haider Zabihi in the movie "Bodyguard", but I wanted to be close to him. Of course, Haj Qasim saw the film and liked it. Then he invited us to his office and I brought up the issue of making the film "At Dinner Time" and said that he would allow me to go and do research, but they did not allow us and they were strict because of security issues, because we were from directions We were exposed and this was troublesome for the Quds Corps.
Begging Haj Qasim to go to Syria and make the film "At Dinner Time"
This director stated that that night I spoke frankly with Haj Qasim begging him for "in time for dinner", and continued: I remember in the first meeting when I saw Sardar Soleimani, I protested very clearly and he listened too. My objection Instead of being encouraged by you, I am now I am begging and why the way It is not open for my filmmaking in Syria; Until finally Sardar He gave permission and presented me with one of the most effective characters and forces of his region.
He added: This character explained to me the history and the history of the events that happened in Syria, including advances and retreats, until he TadmorWe went to Aleppo and places I wanted to see.
Hatamikia stated: I was interested to see children there who I thought were no more after the war, and each of them entered a specific field of politics and economy. The literature of these children is the literature of war; But with the advent of media, they have become more savvy and know what they are doing with their cell phones. These were not only interesting to me; Rather, it opened my closed breath.
My heart was in my mouth when Haj Qasim was supposed to see "By Dinner Time".
This director added: "By dinner time" when it was ready; I was sure that he would be amazed at what I did. When Haj Qasim wanted to come to see the movie, my heart felt like it was coming into my mouth due to anxiety. Alhamdulillah, when Haj Qasim saw the film, I saw both his teary eyes and his reaction when he took my hand to go to the interview corridor, and it took my breath away.
He added: Haj Qasim had love for "Dinner Time", but this movie is really small compared to what these loved ones did. I have never received such a gift from the family of martyrs for any movie that I received for this movie. For example, the son of a shrine defender from Abadan Aynak Rayben, one Chafee And the other gave me his ring. I am sure that Haj Qasim had a mountain of these issues with him, but he took them with him.
Cinema did not like a movie to be made in Syria
The director of the movie "Chamran" by pointing out that the cinema did not like a movie in this Spaces be built, said some friends I will not They forbade me to go this way. I "CH" I made it and it took place at the Fajr Mehjoor Film Festival itself, and at that time I was upset because they did not pay attention to these issues, and in fact, my discussion was beyond Simorgh.