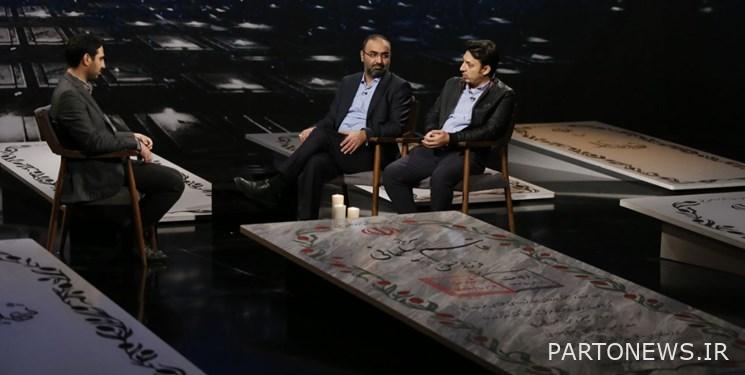 According to the Fars News Agency Radio and Television reporter, the fourth episode of the third season of the TV show "Malek Suleiman" aired last night on channel 1 with the performance of Mohammad Ali Sadrinia and the presence of Mohammad Mehdi Hammet, the son of Martyr Hammet and Mohammad Mahdi Hanif, the son of Martyr Hanif.
In the fourth episode of "King Suleiman" television program, Mohammad Mehdi Hammet stated that he saw martyr Soleimani for the first time when he was a child and during the broadcast of the Fatah narrative, and added: Haj Qasim is one of the last people my father saw him. My father enters the room where the martyrs Zain al-Din, Ahmed Kazemi and Soleimani were and they had an army that had become a group due to many martyrdoms and at the same time they had heard that the Imam (RA) said that the islands should be preserved and my father said that if we are the last ones, We take a gun and go forward. At the same time, my father said to Haj Qasim, will you lend me 20 troops?… Every time Haj Qasim explained this to me, he shed tears because the commander of the capital army said to lend me a bunch of troops.
*I told Haj Qasim that I am happy that you fulfilled my father's last worldly wish
The son of martyr Muhammad Ibrahim Hammat continued: Haj Qasim told his brother Agha Sohrab to take Haj Hammat and hand over the battalion to him. Martyr Mirafazli tells Haj Qasim that I will take him. On the way they were going, a tank mortar hit and both of them were martyred. I always told Haj Qasim Soleimani that I am happy that you fulfilled my father's last worldly wish, and maybe part of my interest in Haj Qasim originates from here.
* We felt the sincerity of Haj Qasim
Martyr Hammet's son said about Haj Qasim's relationship with the martyr's family and children: Some people say that we love you like our own children, but we felt Haj Qasim's sincerity, because he was very attached to the children and he himself created an environment that suddenly made him an uncle. We called I have always said that we talk about martyrs in such a way that some may not believe that a person has such characteristics, but God kept Haj Qasim so that if we want to give an example, he will come to our attention.
He added: Haj Qassem Soleimani used to say that the child of the martyr should be hugged and smelled, and in fact he introduced another face of Qassem Soleimani to us, and these affections made them sincerely love him.
Mohammad Mahdi Hammet said that whenever Haj Qasim's work got stuck in Syria, he would call me, adding: Haj Qasim used to say that we are stuck, ask God for victory for us, and he told us, uncle, call the children and make this request. .
* A martyred child with an opposing view that attracted the love of Haj Qasim
In response to the question whether Haj Qasim made a difference in the way he communicates with the families of martyrs who may have different political tendencies, he said: When Haj Qasim said I love you like my child, he was telling the truth and this is a concern for him. It was very important. Once, Haji called me and said that I miss the children of Shahid, gather together so that we can meet each other. At that time, I was a little younger and I wanted to test Haji, so I asked which political group they were from? Haji was angry with me that these are my children, why are you talking like this? Whomever you love, whatever your thinking, just bring the kids to see them.
In that meeting, where there were about 40 children of the martyrs, one of them had a heated political discussion with Haji, and Haji only looked at him with a smile. When he finished, he said, "You are sitting badly, does your back hurt?" He said: Yes, he took that child of Shahid into a room and massaged his back with his hand. We also stood in the door frame and this level of humility of a general made us cry. On the day Haji was martyred, this martyr's son screamed when he came to his door.
*Hajj Qasim eats our grief like our martyred father
Furthermore, Mohammad Mehdi Hanif, the son of Martyr Hanif, also pointed out that my father was the deputy intelligence officer of the IRGC Ground Force and Martyr Ahmad Kazemi, adding: My father's real name was Martyr Nabiullah Shah Moradi, known as Hanif Montazer Al-Qaim, who was martyred with Martyr Kazmi. The formation of my relationship with Haj Qasim Soleimani was after the days of my father's martyrdom.
Hanif continued: One of the differences between my family and Shahid Hammet's is that my father was alive until he was 18 years old, and we suddenly experienced this pain, and this makes you feel the emptiness of his place more than ever. Anyway, there is a kind of discomfort for the family as to why this happened to us.
He emphasized: We were not involved in seeing Haj Qasim, Haj Qasim was involved in seeing us and knowing about our condition. We never decided to tell Haj Qasim uncle, Haj Qasim said from the day he saw us what are you doing uncle. He asked us how we were doing with the model of our own families, and ate our grief like our father.
* Sardar Soleimani was looking for a shortcut for martyrdom in connection with the families of the martyrs
Mohammad Mehdi Hanif pointed out that after the martyrdom of Hajj Ahmad Kazemi and Rizwan, he reached a point where he begged to join his companions, adding: I feel that Hajj Qasim had found a shortcut to his martyrdom in the relationship he had with the families of the martyrs. . If he was following the family of martyrs or upset them, he would be upset like his own child. For a while, I had more contact with Haj Qasim, and he knew that he was in touch with the other children of Shahid and asked about their condition and helped them if they needed it.
The third season of the special program "King Sulaiman" is a product of Basij Center for Broadcasting and Oj Media Art Organization, which is prepared in 10 episodes and is broadcasted every night at 20:00 on Yak Sima channel.
end of message/
You can edit this article

Suggest this article for the first page