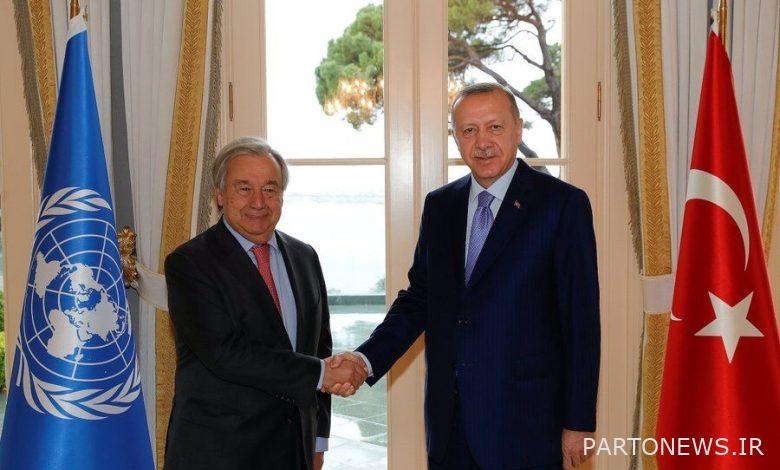 The Office of the Secretary-General of the United Nations announced on Monday local time: Antonio Guterres, Secretary-General of the United Nations, met with Turkish President Recep Tayyip Erdogan on Monday, April 25, 2022 and expressed his support for Turkey's ongoing diplomatic efforts The relationship with the war in Ukraine expressed.
"Their common goal is to end the war in Ukraine at the earliest opportunity and to create the conditions for an end to the suffering of civilians," a statement from Guterres's office said.
"They stressed the urgent need to establish humanitarian corridors for the evacuation of civilians and to provide essential assistance to the affected communities in Ukraine," the statement said.
According to the statement, the UN Secretary General and the President of Turkey agreed to maintain contact to follow up on current plans. They also discussed the impact of the Ukraine war on regional and global issues, including energy, food and finance.
The UN Secretary-General will travel to Russia tomorrow (April 26) to meet with Vladimir Putin and to Ukraine on April 28 (April 28) to meet with Volodymyr Zelinsky.
Earlier, Ukrainian President Volodymyr Zelinsky criticized UN Secretary-General Antonio Guterres for visiting Russia before visiting Ukraine.
"It is wrong to travel to Russia first and then to visit Ukraine," Zelensky told reporters in the Ukrainian capital on Sunday. There is no justice and logic in this practice.
Although the UN Secretary-General has made various comments on the crisis since the start of the Ukraine war on February 24 (March 5, 1400), his actions in this regard, like those of other international events, have been widely criticized.
Critics of Guttierez's performance believe; It is worrying that actors such as Turkey, France, Austria and even the Zionist regime have played the role of mediator in this crisis, and they do not know whether the Secretary General is involved behind any mediation.
Following criticism of the UN mediation role in the war, Guttierez is said to have written to Russian President Vladimir Putin and Ukrainian President Volodymyr Zelinsky on April 30, asking him to meet with them.
Criticizing the West's indifference to Moscow's security concerns, Russian President Vladimir Putin on February 21, 2022, recognized the independence of the Donetsk and Luhansk People's Republics in the Donbas region.
Three days later, on Thursday, February 24, 1400, Putin launched a so-called "special operation" against Ukraine, turning tense Moscow-Kiev relations into a military confrontation. The war in Ukraine and the reactions to Russia's action continue.