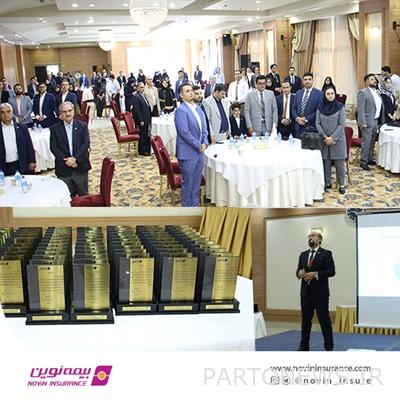 According to the monetary and financial news, quoting the public and international relations of Novin Bimeh, in this ceremony, one of the best sales networks of this company in the form of Afarin Saz and Rahpooyan competitions, considering titles such as "selected representatives all over the country", "top representative in insurance" Individual life "," Top representative of each field "," Top representative of each branch "," Top representative in terms of portfolio growth "," New top representative "and" Top representative of top equity and interactive brokers ", with awards, plaques and The statue of appreciation was made.
Hossein Karim Khan Zand, CEO of Novin Insurance, said in a part of the ceremony that the insurance industry and the country's economy are changing: "This change is taking shape with the arrival of new companies and increasing competition." Therefore, we must be ready to enter a new competitive environment by increasing our risk-taking capacity in applying new marketing methods, new areas of artificial intelligence in providing insurance services and studying the needs of the market and the demands of customers in providing new services.
He added: "One of the platforms that must be considered for its development is matching the speed of issuance and payment of insurance claims." This issue requires reviewing existing processes and creating new infrastructure that requires the intelligence and effort of all members of the new insurance family, including the sales network.
Emphasizing the need to increase the sales power of new insurance agents, the Vice Chairman and CEO of Novin Insurance said: "One of the important indicators in the discussion of sustainable sales in insurance agencies is customer retention." An indicator that is a sign of the success of the sales network among the representatives of Novin Insurance and has been well implemented so far, and today it is to be hoped that the remuneration of the representatives in Novin Insurance has almost doubled compared to the last 6 years.
In the end, he said: in modern insurance, one of the main strategies; Expand training in all areas of technical and insurance marketing. Therefore, we try to provide any training platform needed for the representatives and their staff.
According to the report, according to the director of branches, representatives and agents of modern insurance, the criteria for selecting the top representatives of the company in 1400 based on such things as portfolio growth, gaining new market share, extending insurance policies and customer retention, observing the appropriate loss ratio, observing The professional ethics of the insurance agency has been to pay attention to the regional potentials of each city and to pay attention to the growth and development in the activities of the agents.
Holding a workshop on personal empowerment and future management by Jalal Muslim Yazdi was one of the other parts of the award ceremony of the best sales network of the company.
In this ceremony, 80 top representatives and interactive brokers were honored.