Marriage and family
social
Unveiling of a single-page marriage document / token, replacing the couple's handwritten signatures – Mehr News Agency | Iran and world's news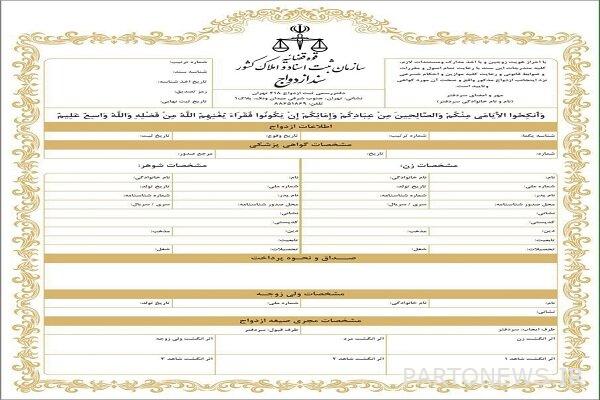 According to the Mehr reporter, the marriage document or its so-called public Deed Marriage is an official document prepared by the marriage registry in connection with a temporary or permanent marriage. Deed Marriage can be invoked as an official document in all courts, and couples are required to submit a marriage certificate to file a lawsuit over issues such as obtaining dowry, obtaining birth certificates for children, requiring a wife to obey, and the like.
According to civil law, either party can state its terms in the contract and agree on it. According to Article 1119 of the Civil Code, each man and woman can mention conditions in their marriage certificate that are not contrary to the nature of the contract.
The current marriage document has several pages that must be signed by several couples in order to be recognized, but with the effects of the laws related to the Sixth Development Plan, the marriage document is to be fundamentally changed and issued electronically and based on this method. Excess information is deleted in the electronic document.
Earlier, there was talk of getting a marriage certificate, which has been revoked, and the one-page marriage certificate is set to replace the current multi-page booklets.
How much water does it cost to print a marriage booklet?
One of the reasons that marriage booklets are going to change is the cost of printing them. As Mehdi Iqbal, the deputy director of the State Property and Deeds Registration Organization, said in an interview with Mehr: Oh you It was written for the marriage registry and the electronic marriage document is on the agenda.
He added: the single marriage certificate document is taken out of the securities, but the paper is printed there and in the form of a sheet contains the terms of the contract, but it is no longer in the form of a booklet and the signature of several people, and the signature is in the form of Token And electronic signature.
Iqbal continued: "We are providing its infrastructure and we are trying to unveil several documents during the Judiciary Week, including a single electronic document."
"Our notary offices are no longer traditional," he said.
The deputy head of the Registry Office announced the reduction of costs with the single-page marriage certificate and said: "Costs will be reduced. At present, we had a cost of 200,000 to 300,000 Tomans for booklets, which will be reduced. These violations are also prevented.
Iqbal continued: "Currently, a lot of money is spent on producing current marriage documents, which makes it economical to become electronic." Joey It is done extensively.