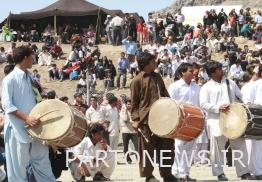 According to the Aria Heritage Report, citing the public relations of the General Directorate of Cultural Heritage, Tourism and Handicrafts of Sistan and Baluchestan, Mojtaba Mir Hosseini stated today, March 5, 2009: "It is a special creation of these transnational mirrors related to different ethnic groups and individuals inside and outside Iran and twelve other countries, which has gone from a simple national celebration to a major international event."
"The people and nomads of the province will welcome travelers and tourists by setting up black tents at the entrances of cities, and lasting security will be displayed," added the Sistan and Baluchestan Deputy Minister of Tourism.
"We are looking to take advantage of Nowruz to enter the new century with a positive image," he said.
Mir Hosseini, noting that today we are on the verge of changing the century, acknowledged: "If we want the new Sistan and Baluchestan to see an increase in the presence of tourists in the 15th century and use the results of lasting peace and security in interaction with neighbors and also "To take advantage of the tourism industry and export cultural industries in economic growth and creating sustainable employment, we must display the art of hospitality and record lasting memories for all travelers and tourists."
"What has happened in the past has been pathologized and we have measured the strengths and weaknesses, and we are using this irreplaceable capacity for future renovation," he continued.
Deputy Minister of Tourism of Sistan and Baluchestan, pointing out that various festivals and Nowruz venues in Nowruz 1401 in the province with the cooperation of executive agencies, the private sector is planned, added: »
"Nowruz brings happiness and moderation with it and pays attention to wisdom and thought, and at the same time with the growth of greens and plants, it brings the change of seasons and changes in life," he said.
Mir Hosseini said: "Nowruz is the biggest attraction and its main capacity is culture, and with the arrival of people from inside and outside the country to the province, we see the connection of cultures in Nowruz, which this cultural contact in Nowruz adds to the cultural richness."