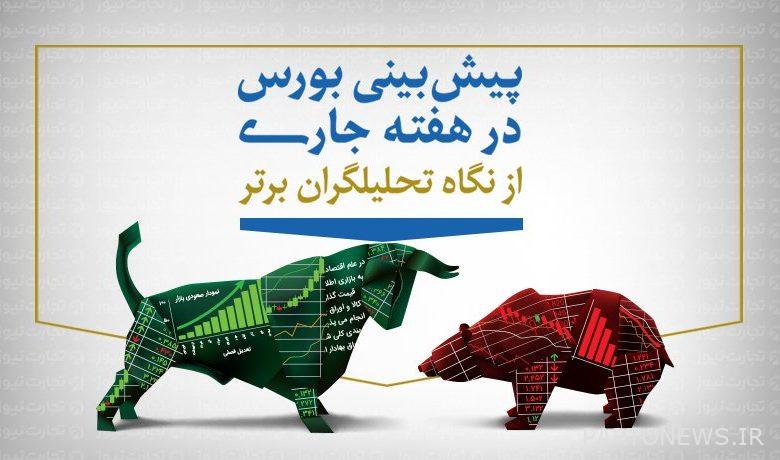 According to Tejarat News, at the end of this week, the total stock index reached 1,541,000 units and recorded a decrease of 1.47%.
Also, the total homogeneous index decreased by 0.67% to the level of 429,981 units. The total OTC index also decreased by 1.25 percent to a height of 26,219 units.
The value of transactions in the past week reached a total of 23 thousand and 547 billion tomans, which was related to micro transactions and preemptive rights. The value of this week's stock exchange transactions was on average 4,649 billion tomans. Saturday is 5,426 billion tomans, Sunday is 5,053 billion tomans, Monday is 4,661 billion tomans, Tuesday is 4,159 billion tomans and Wednesday is 3,948 billion tomans.
Attractive bonds from stock exchanges
For the third week in a row, funds and bonds came to the attention of real stock market activists. This happens when the future of the stock market is not very bright and real people prefer to invest their liquidity in fixed income funds and securities and avoid negative fluctuations. (Economy News)
Except on Saturday, when 68 billion tomans of real liquidity was injected into bonds and funds. This trend was reversed on other days, and the realities shifted their money to these financial instruments. The largest injection of real money into funds and bonds occurred on Wednesday, the number was 207 billion tomans.
Next week, due to the holidays, starts on Monday, and experts believe that the market will experience a balanced upward trend in these few trading days. Of course, the price of commodities, the price of the dollar and the status of Barjam may change due to changes in international news.
Read the latest stock market forecasts here.