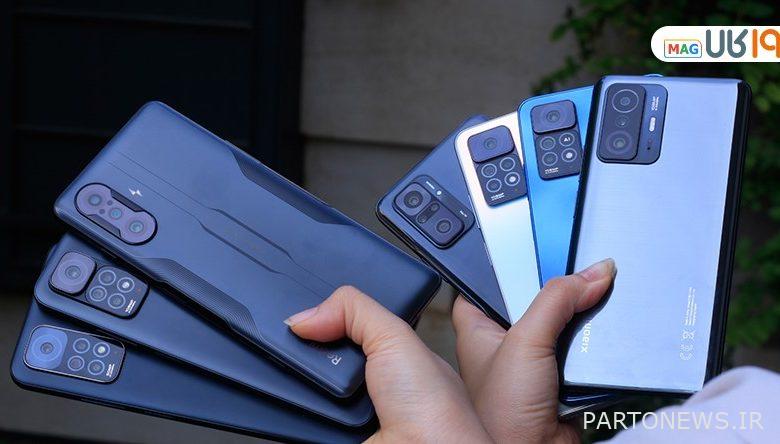 Which model is the best Xiaomi phone up to 5 million? 19 products as a mobile reference Here we introduce some models of Xiaomi phones with a price of less than 5 million Tomans. Stay with us.
Xiaomi phone up to 5 million
Today, more than 10 years have passed since the Chinese company Xiaomi started its activity in the field of mobile and this brand is known all over the world. Undoubtedly, you know that the main reason for Xiaomi's reputation and success is to offer the best hardware specifications in any price range; As a result, it seems logical that when we decide to buy an economical phone with a price range of 4 to 5 million tomans, the models of this brand are the best options that line up in front of us. If you decide to buy a Xiaomi phone for up to 5 million Tomans, 19 products, which is one of the most reputable mobile references in Iran, will guide you and tell you which model is more suitable for you.
Who benefits from Xiaomi phones up to 5 million?
In the following, we will introduce 5 models of Xiaomi phones that are priced at less than 5 million, and we will mention their unique features and say which category of users is more suitable for each of them.
Xiaomi Redmi 9C
If the most important factor for you when buying a phone is its price, we recommend the Redmi 9C, because despite the global price of $ 140, it currently has an even more reasonable and economical price in the Iranian market. The processor chip of this phone is MediaTek Helio G35, which is not suitable for heavy games, but it performs well in running normal applications. The phone also has a 6.5-inch IPS LCD display with HD + resolution and a relatively large 5000 mAh battery, and in terms of software, it runs the MIUI 12 user interface by default according to version 10 of Android.
Xiaomi Redmi Note 10 5G
If you have up to 5 million more futuristic views to buy a Xiaomi phone and want a model that supports the fifth generation of the Internet, this phone is your food.
Xiaomi has come up with a 6.5-inch IPS LCD display that also supports 90Hz refresh rate, as well as a MediaTek Dimensity 700 processor chip with 7nm lithography, which can be said to be based on these specifications. That Redmi Note 10 5G It is also suitable for playing. Of course, keep that in mind here Xiaomi phone There is talk of up to 5 million, and practically the models in this price range are not gaming, and if we introduce a model suitable for the game, we have considered its performance compared to its peers.
The default software of this phone is MIUI 12 user interface based on Android 11.
Xiaomi Redmi 10 Prime
If you want Xiaomi mobile phones up to 5 million that need to be charged late, the company has made the Redmi 10 Prime for you. This model has a massive 6,000 mAh battery that lasts at least two days when used normally and also supports 18-watt fast charging; A practical feature in the battery of this phone is the ability to support 9 watt reverse charging, which you can use to charge your smart gadgets.
Of course, the only notable feature of this model is its battery, and the above can be added Redmi 10 Prime.
Gorilla Glass 3
FHD + display with 90Hz refresh rate
Resistant to water droplets and dust mites
Quad 50 megapixel camera
Xiaomi Redmi Note 10S
If you want everything up to 5 million Xiaomi phones, the Note 10S is the best option for you. This model has a quad-core camera with a 64-megapixel main lens that is capable of recording K4 video. The display is of the Omul type, which has an extraordinary clarity and brightness. Its 5000 mAh battery is fully charged with a 33 watt fast charge in about an hour. The Xiaomi phone is also IP53 certified and resistant to water and dust. In addition, the Note 10S processor chip is MediaTek G95, which has gained significant points in various benchmarks and has a good overall performance.
This model can be considered complete without considering the price range. Of course, it is worth mentioning once again that 19 products have been compared and compared to phones up to 5 million.
Xiaomi Redmi Note 11 (4G)
The latest Xiaomi phone up to 5 million with a great display and speaker that feeds movie watching and browsing is the Redmi Note 11. This model of AMOLED display with features such as 1000 nits brightness peak, support for 90 Hz image refresh rate and a resolution of 1080 x 2400 pixels.
Stereo speakers Xiaomi Note 11 They provide excellent sound quality, and finally if you fully charge the 5000 mAh battery, you can watch about 20 hours of movies or surf the web for about 16 hours. The Redmi Note 11 also has a 33-watt fast-charging feature, which charges it in about 1 hour if the battery runs out.
19 products as a mobile reference Here are some models of Xiaomi phones up to 5 million and identified the target community of each case so that you can better buy a phone that meets your needs and expectations. Which model do you choose?