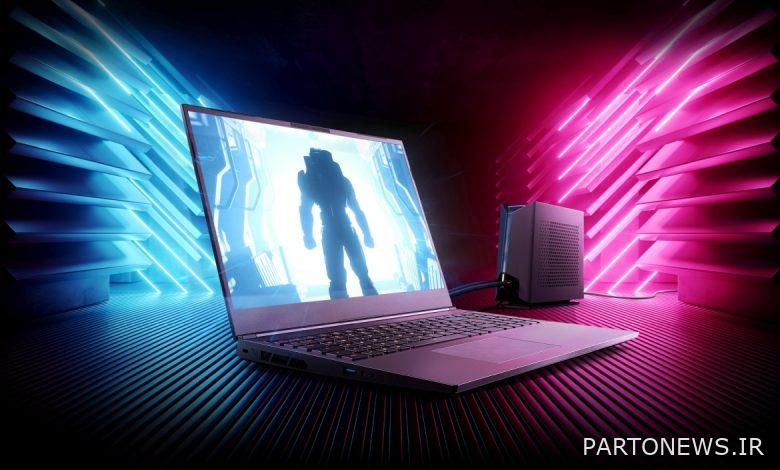 Gaming laptop XMG Neo 16 It is one of the high-end gaming laptop series, which is supposed to be equipped with RTX 40 laptop graphics cards from Nvidia and Intel's 13th generation processors. Laptops equipped with this hardware combination can occupy the top of all benchmark charts without any problems.
XMG Neo 16 gaming laptop
The XMG Neo 16 laptop is equipped with a 24-core Core i9 13900HX processor, a 16-inch 240 Hz display and DDR5 memory. Compared to the previous model (Neo 15), this laptop has a bigger screen and newer generation hardware, and its cooling system is a detachable liquid circulation cooler, nicknamed Oasis.
While the supply of laptops equipped with RTX 40 graphics cards is supposed to start from February, XMG is among the first companies to announce the price of its new generation laptops. The base model of the XMG Neo 16 laptop, which is equipped with an i9 13900HX processor and an RTX 4060 graphics card, is announced at $2199, and for upgrading the graphics card to the RTX 4080, RTX 4070 and RTX 4090 models, it is added to the price of this laptop according to the table below :
In fact, four graphics cards can be ordered for this laptop: RTX 4060 and RTX 4070 with 115 W consumption and RTX 4080 and RTX 4090 with 150 W consumption. The energy consumption of all four graphics card models can be increased up to 25 watts from these numbers thanks to NVIDIA Dynamic Boost technology.
NVIDIA GeForce RTX 4060 Laptop | 8 GB GDDR6 | 115 W TGP (+ 25 W Dynamic Boost 2.0)
NVIDIA GeForce RTX 4070 Laptop | 8 GB GDDR6 | 115 W TGP (+ 25 W Dynamic Boost 2.0)
NVIDIA GeForce RTX 4080 Laptop | 12 GB GDDR6 | 150 W TGP (+ 25 W Dynamic Boost 2.0)
NVIDIA GeForce RTX 4090 Laptop | 16 GB GDDR6 | 150 W TGP (+ 25 W Dynamic Boost 2.0)
$3,900 base price for an RTX 4090 laptop
XMG has confirmed with the table above that upgrading the graphics card of the Neo 16 laptop to an RTX 4070 will add $375 to its price over the base model RTX 4060. This number increases to $1,050 for the RTX 4080 graphics card. As for the RTX 4090 flagship graphics card, the price difference with the RTX 4060 base model reaches an incredibly high figure of $1,687.
With this account, the base price of the XMG Neo 16 laptop of $2199 will increase to at least $3886 if equipped with an RTX 4090 graphics card, and this price is only the "base" price of the RTX 4090 model! If you order things like a mechanical keyboard and DDR5 memory for this laptop, its price will reach more than 4000 dollars.
Related posts