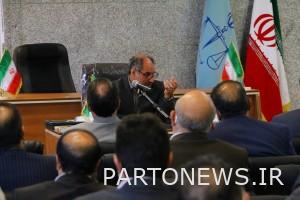 Chief Justice of Kermanshah:
The Chief Justice of Kermanshah, during his visit to the courts of appeal of the province, said: "A good vote is the builder of the legal system of society."
According to the Kermanshah Judiciary Public Relations, Dr. Tavassolizadeh, during his visit to the provincial courts of appeals and among the judges, emphasized that the issuance of convincing and justified votes strengthens the position of defending it: It should be fair, and if that happens, a good vote has been issued and it is the builder of the legal system of the society.
He added: "Good votes give peace of mind to the society and it builds trust and creates conscience for the parties to the case."
Dr. Tavassolizadeh reiterated that judges should use the utmost care with all the documents to issue a good verdict, noting that making any vote can be the identity card of a judge, and it can be said that the validity of the judiciary is the votes cast by them.
In another part of his speech, the Chief Justice of the province listed some priorities in the Kermanshah judiciary, such as responding to the people, creating compromises among the people, reducing the criminal population, assigning pending cases, preventing delays and maximizing the use of the system. A written plan has been presented for each of the mentioned cases, but nevertheless, as it has been emphasized many times, we need comments and suggestions from colleagues, as if more than 4000 suggestions have been submitted by colleagues so far.
The highest judicial official of the province went on to address some important and sensitive legal issues and explain and provide solutions for them. Followed.
Evaluating the judicial situation in the province, especially in the courts of appeal, he emphasized that fortunately, due to the good relations in the province's judiciary and the unremitting efforts of judges and staff, we have been able to improve many parameters and be among the top provinces. .
Dr. Tavassolizadeh emphasized that one of our basic programs is prevention, which should be pursued more seriously than before. On the other hand, it is recommended and emphasized to make compromises in the cases as long as there is no legal obstacle, and also to control the entry of the case, which according to the programs presented so far, we have been able to take basic steps in this direction.
Following this ceremony, and based on the visit and opinion of the inspection board of the Supreme Court, which took place shortly before the courts of Kermanshah province, the top branches of the courts of appeal were praised by the Chief Justice of the province.
A occasional visit to all branches of the courts of appeal was another program of the Chief Justice of Kermanshah province on this day.