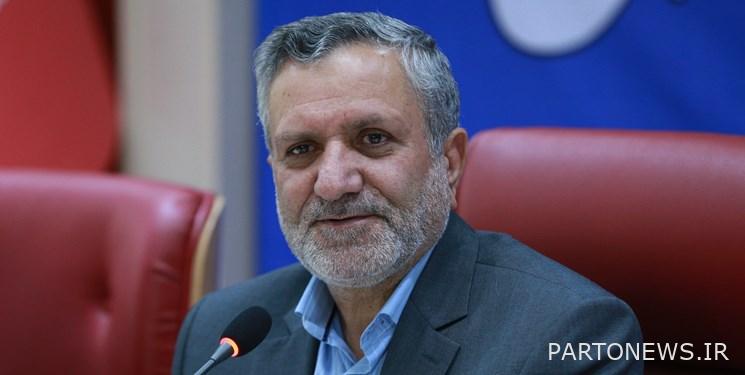 According to the social welfare group of Fars news agency, Seyyed Solat Mortazavi was buried in the funeral ceremony of the unknown martyr wearing a patterned dress with the emblem of the former Ministry of Labor and Social Affairs, which was held today, Sunday, December 18, with the presence of various groups of people, the families of the martyrs, employees and officials of the Ministry of Labor at the place. This ministry was held, on behalf of the labor community, he said goodbye to the unknown martyr.
He stated that the main concern of the 13th People's Government is to solve the livelihood and economic problems of the people.
Stating that the war between wealth and poverty is endless, the Minister of Labor said: We must stand against all the conspiracies of the enemies, including the conspiracies of sanctions and economic war.
He considered today's war of the Islamic Republic of Iran to be a hybrid and economic one and said: The enemies of the Islamic Revolution designed regional disunity, sanctions and imposed war for decades, but they failed in all these events.
Mortazavi added: When I saw the coffin of our dear martyr and the title of the unknown martyr, I remembered the preparatory operation of Wal-Fajr in the Fake region of Khuzestan.
He considered the principle of the system to be the country's territorial integrity, Iranian-Islamic culture and civilization, and the anti-arrogance cry of the oppressed people of the world. do.
Mortazavi, in the interpretation of Imam Khomeini (RA), described the nation of Iran in the current era as superior to the nation of Hijaz and Kufa in the era of the Prophet (PBUH) and Hazrat Ali (AS).
The Minister of Cooperation, Labor and Social Welfare noted: We renew our agreement with the ideals of the Imam (RA), the Islamic Revolution, and the path of religious authority in burying the body of this unknown martyr of the holy defense.
The pure body of the unknown martyr of eight years of holy defense, today, Sunday, January 18, at the same time as the third anniversary of the martyrdom of Hajj Qassem Soleimani, in the presence of the Minister of Cooperation, Labor and Social Welfare, deputies, managers and employees of this ministry, national and military officials and a large number of The martyr-loving and appreciative people were buried in front of the Hajj and Pilgrimage Organization and buried in the place of this ministry.
end of message/
You can edit this article

Suggest this article for the first page