Marriage and family
social
The story of an interesting wedding in the Ascension of the Martyrs / The body of the martyr who defended the shrine was the special guest of our wedding ceremony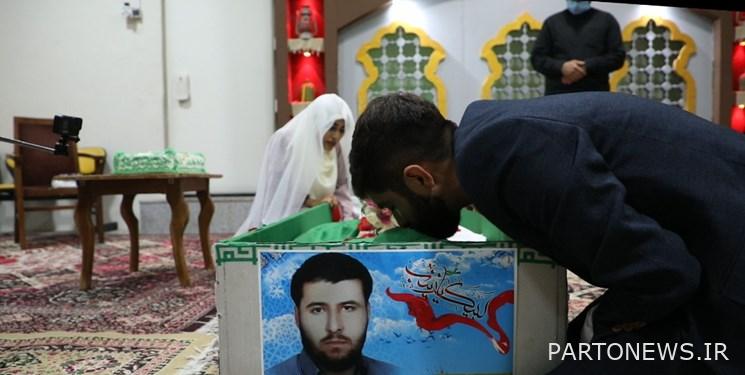 Life Group; Zeinab Nadali: These days, we constantly hear weird adventures about expensive and glamorous weddings. Weddings that sometimes skyrocket in cost and show that young people today can not afford the cost of marriage, and perhaps marriage and weddings are just the same expensive and so-called luxury ceremonies and there is no other type of ceremony! In the meantime, we went to a young couple who had just gotten married in a simple ceremony and held the same simple ceremony in the Ascension of the Martyrs to bring light and spirituality into their relationship from the very beginning of their lives. But the story of this couple's marriage in the Ascension of the Martyrs has a fascinating story that we suggest you read this story in their own language. Zeinab and Milad describe their wedding ceremony as follows:
My bride's tent opened our feet to the Ascension of the Martyrs
When we were supposed to buy my bride's tent, we went to the market in pairs; we had to park the car a little further and walk part of the way. All the way, I was thinking, where are we going? At times, I even tried to pull it very subtly from under his tongue, but each time I knocked on the door and was confronted with the answer: ‌ "Surprise!"
My efforts were in vain and as soon as I turned my eyes to find out where this good place is, it did not happen. We were in the middle of Behesht alley when he said, "Well, this is Vaisa." He had taken me to the Ascension of the Martyrs. He knew how much I loved it. I could not believe it! It was the first time I saw Ascension up close, until then I had never been destined to come. I had intended to come to Ascension to say goodbye to some martyrs, but every time something happened that could not happen.
I felt very good, I was holding Milad's hands tightly and I was looking at the Ascension package in astonishment. I wanted the door to open and I would go inside and visit it with a full heart, I said with regret: "I wish we could go inside!"
He looked at me and realized from the light of my eyes how eager I was to see him there. To see. I wanted to open the door to us in another way, but I did not know how!
Finally, we got tired of Ascension and standing behind those closed doors and went to the market; We bought my bride's tent and a few days later, at the same time as the birth of Hazrat Zahra "S", a sermon of temporary secrecy was recited between us. We had a small party because of the corona and only the families were present.
The martyrs did not let us stay behind the door
It was early March and only two weeks had passed since the yes-out ceremony and we still had not decided on the date of the wedding ceremony. Every time we talked to each other, we wanted our wedding ceremony to be such that it is not just a simple bond between us, but at the same time, it connects us and our lives more and more to the martyrs and imams. It may seem harsh, but my wife and I spent hours thinking about who would read the wedding sermon.
In the midst of all this mental anxiety between me and Milad, one day my friend sent me an announcement in cyberspace that he had written about marriage in the Ascension of the Martyrs. I was so happy that I even forgot to thank my friend. I was sure that the martyrs themselves had invited us. Could we look at the door of Ascension with regret and not let the martyrs open the door for us ?! No, there was no such thing in the creed of the martyrs.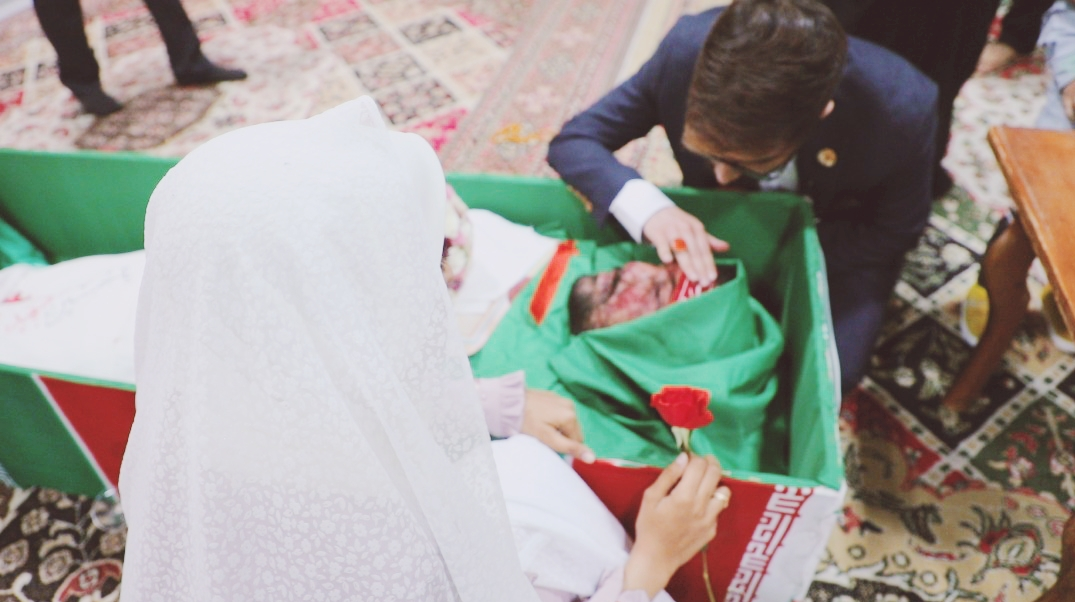 He both agreed with Milad and was very happy. I was supposed to call and ask about the terms of the marriage in Ascension and then talk to the families. I called several times until they finally answered, I talked and asked about the situation. The person in charge of Ascension said, "Tell me the date of your marriage so that I can register it." What was left to say, the date was not clear yet, I said we probably want to get married after Eid. He said that at that time he would probably not accept the ascension of the bride and groom, and that I would tell a date in the next two weeks, and that it was not clear how long the ascension would be open due to Corona conditions. I thanked him and was scheduled to call again.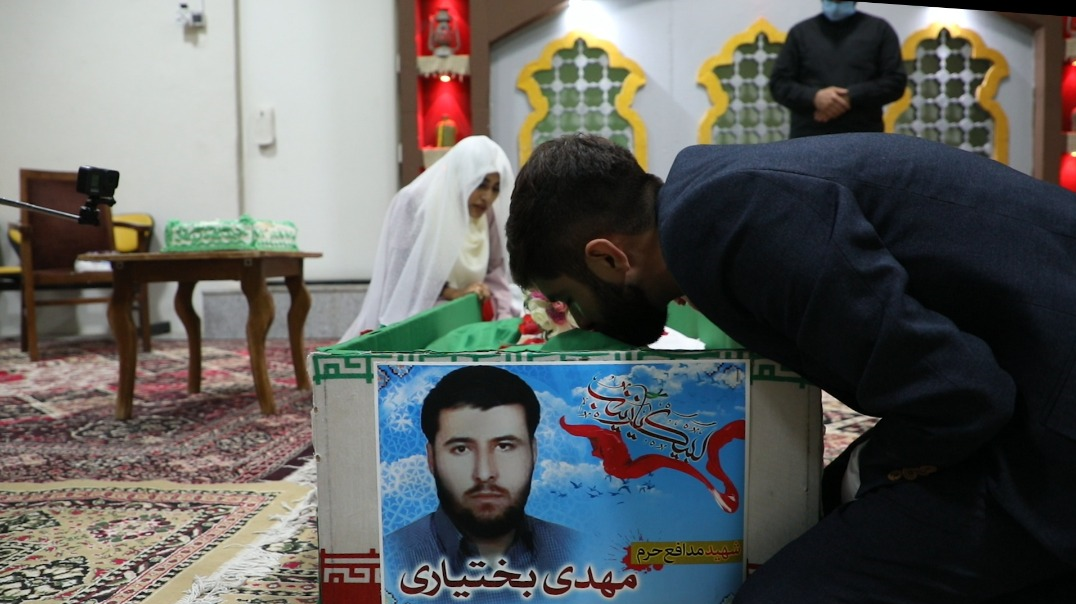 We closed our eyes to all luxuries to get married in Ascension
After the Christmas prayer, I said the conditions of the Ascension, we could only invite 15 guests, which means a simple and small celebration again. It's hard, but we chose to start our lives simple. Milad and I had accepted all the conditions of Ascension, and our only problem was the date we had to give to Ascension. It had just been two weeks since the ceremony and neither we nor the families were ready for the wedding ceremony. We sat on the rug for about an hour and thought and talked. Finally, we decided to hold the ceremony in the next two weeks anyway. Let's hold. We opened the calendar and looked for a suitable date. Because of the devotion that we both had to Hazrat Abbas and Imam Hussein (AS), we chose the third of Sha'ban and then I called Ascension and announced the date. Now our only concern was to satisfy the families.
They said that if you do not hold a detailed wedding ceremony, you will regret it later
Fortunately, both my family and Milad's family welcomed us to hold our ceremony in such a simple and holy place, but when word reached our friends and acquaintances that we had such a decision, they tried to dissuade me and said, "You do not want clothes. Wear a bride? Do you not want to have a detailed ceremony? How many times are you going to get married? "You do not want everyone to be and see your happiness?" They said I would regret it and later regret a ceremony I did not attend. I was completely opposed to their profession. To have a simple ceremony with the martyrs was our choice and it was not a compulsion to stand by it forever. On the other hand, we have always been proud of the love we had for the Imams and the martyrs, and in my opinion, this love is not only used to prove it, we must continue their way and ritual. Simple living is their constant order. In fact, by doing so, we wanted to prove our love for the Imams and the martyrs.
I wore a simple dress for the ceremony and did not even go to the hairdresser
To buy the Nowruz dress that we went to, I bought two long shirts and left one for the wedding ceremony, which means that it was not like I was looking for a special dress for the ceremony and I wanted to pay a lot of money. We bought a simple and at the same time beautiful dress and wore it with the same chador that had opened our feet to the Ascension of the Martyrs. I did not even go to the hairdresser.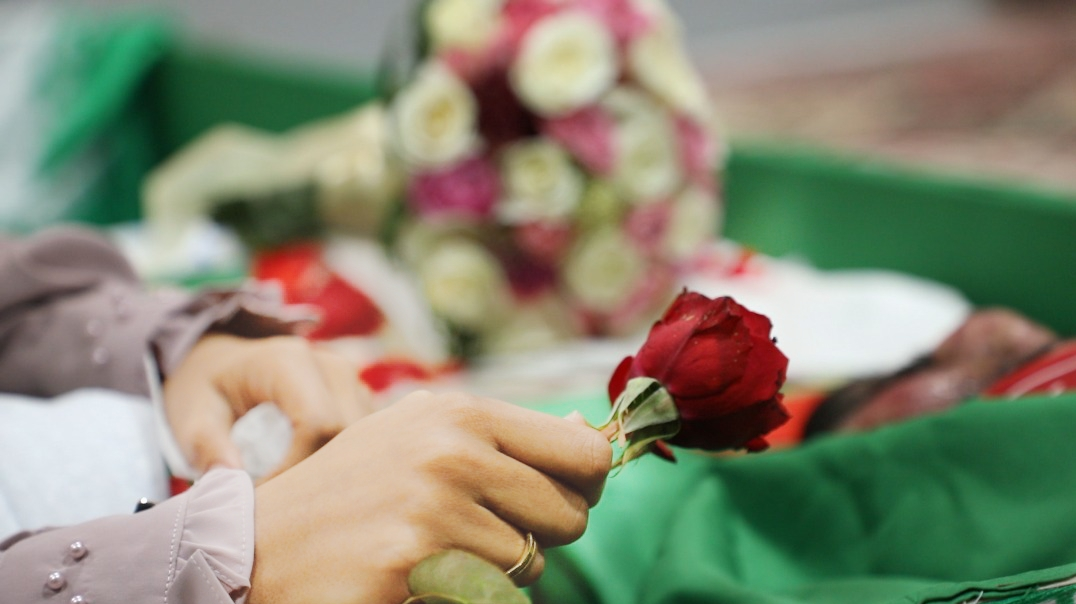 I made a video call to my friends to attend our ceremony
The guests of the ceremony were only my family and Milad, and the conditions of Ascension were not such that we could invite anyone else, so I made a video call with some friends and acquaintances that I always wanted to be present at my ceremony to bring me the joy of that moment. And the rest to be partners.
We gave Imam Hussein Torbat as a gift to our guests
One of the conditions that Meraj had told us was that we could not have a detailed reception there. Although our reception was simple, we already prepared small and spiritual gifts for the guests, for example, our wedding gifts were Torbat Imam Hussein (AS) and Sarband or Abbas, which we gave to the guests on the birthday of these two nobles.
The groom greeted the shrine of Imam Hussein (AS) before saying yes
Our wedding table was set in front of the unknown martyrs and it was decorated with photos of the martyrs; I liked our wedding table very much. We were sitting together and Aqad started reciting the sermon. I did not have time to recite the Qur'an while he was reciting the sermon. I wanted to pray for them in such a moment. I did not want to say yes to reading the Qur'an, I made up my mind and looked at the Qur'an and whispered the first verse that caught my eye, then with the permission of Sahib al-Zaman and Tawassul I said yes to Hazrat Zahra and the martyrs.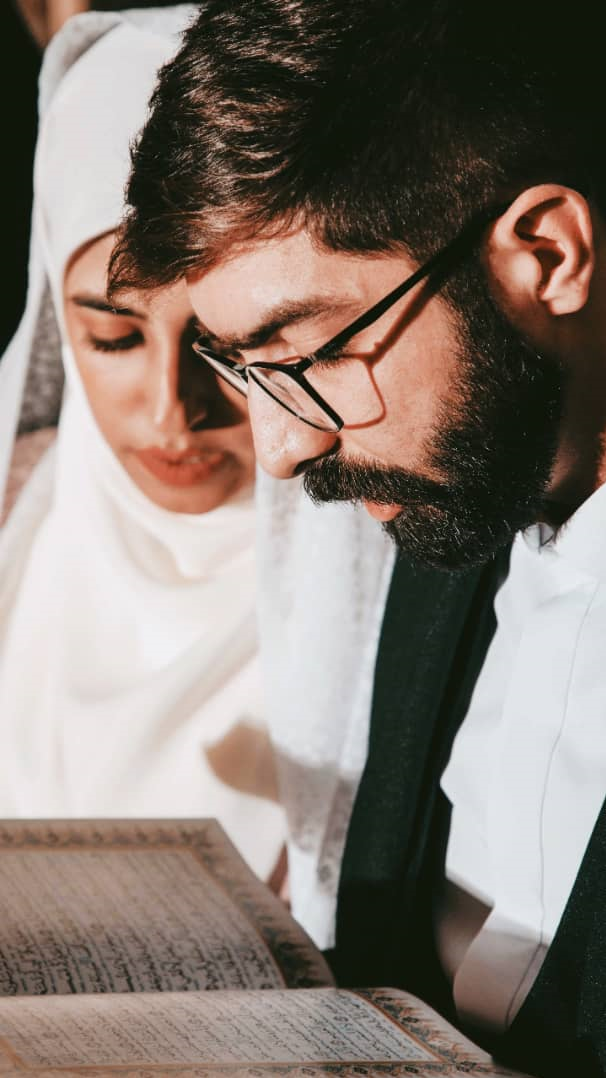 Milad, who wanted to say yes, greeted the shrine of Hazrat Aba Abdullah three times. It was a little strange and different for me. I could not bear it and immediately asked why. At that moment, I did not understand what he meant, but a few moments later, when Bakhtiari was martyred, the special guest of our ceremony whispered in my ear: "Did Imam Hussein answer from Syria and from the shrine of Hazrat Zainab!"
Martyr Mehdi Bakhtiari was the special guest of our ceremony
The day I called Meraj, they said that we could only be in Meraj for one hour, and that Hosseineh Meraj's priority was with the ceremonies related to the martyrs. But that one hour was too much time for us, who longed to open the door to Ascension for a minute, so we accepted. We had many plans for this one hour, but as soon as they read the wedding sermon, our wedding table gathered. Of course, because the person in charge of Ascension announced that they had brought a martyr, we quickly gathered the wedding table ourselves. And a bouquet of flowers between them, so we went with Milad and sat in the car, the guests also went to the house, but we stayed to visit the martyr even from a distance.
We were sitting when the person in charge of Ascension came and called us to attend the private farewell of the martyr and his wife. We were so happy that we did not let him finish his speech and we went inside quickly. At first, I thought that the martyr was inside the coffin, but when I entered, I saw that his face had been opened and his wife and child were sitting next to him. Before entering, I politely asked their wife for permission. Inside. My tone was so pleasing that Shahd's wife noticed me and came to greet us and said: "Excuse me, Aghamehdi, the bride's sleeping, Mr. Mehdi, we are very hospitable." Then he turned to the martyr's body and continued: "Remember, you always encouraged young people who simply got married. Look up, the bride and groom came."
He said these things and we could not stop ourselves anymore, we were crying so much that it seems that we have known this dear martyr for several years. We blessed our circles with his pure blood and wanted him to pray for the life we ​​started with him a few moments ago.
I put my bouquet on the chest of Martyr Mehdi Bakhtiari
During the acquaintance, one day we went to talk to Behesht Zahra to visit the shrines of the martyrs. At that time, the families did not agree much with our marriage. Honestly, the moment I took my bouquet, I forgot the whole story of this vow. But when it happened and we became the guests of the body of Martyr Mehdi Bakhtiari, I said Al-Wada Wafa. I placed a bouquet of flowers on Martyr Bakhtiari's chest and replaced it with a flower branch that was on Martyr's chest. It was such a beautiful scene that I could not even dream.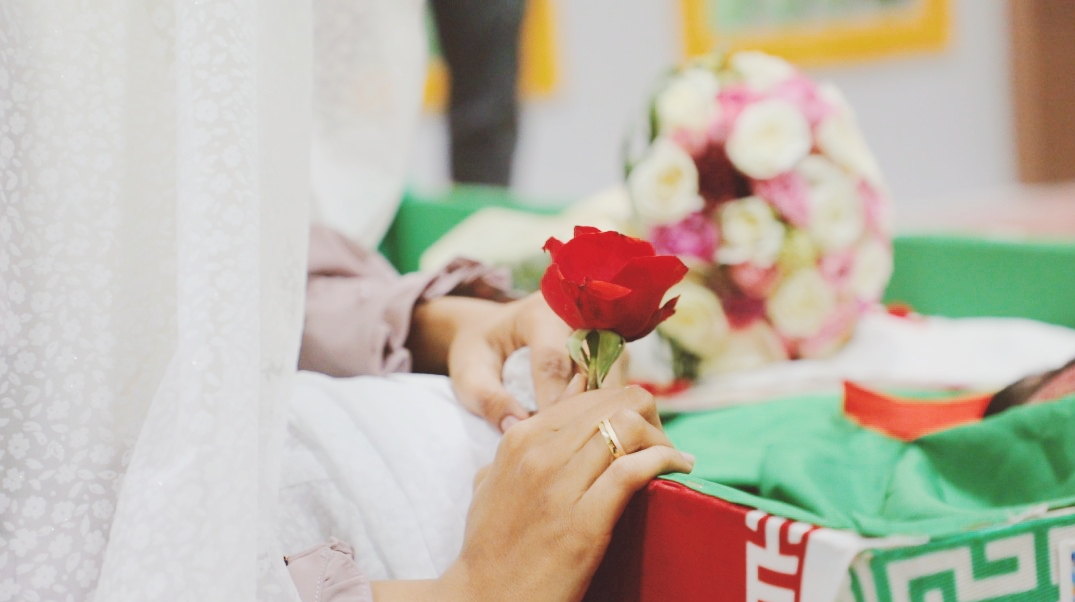 We took our photos instead of the studio in the park
Because we came out of Hosseinieh immediately after reading the sermon, we did not have the opportunity to take many photos and have them as souvenirs. The photographer suggested that we go to the city park, which is facing the Ascension of the Martyrs, and take a photo there. Milad thought I was upset and quickly objected, but I accepted the photographer's suggestion and said, "What's wrong? We went into the park to take pictures." The reaction of the people was very interesting, they passed by us and congratulated us, clapped their hands and wished us happiness. Sometimes the cars that passed by us were honking their horns and rejoicing. I was very happy to share the joy of the celebration with the people of my city.
Single girls tell me about their parents' strictness
Ever since the story of our marriage and the presence of the martyr who defended the shrine of Mehdi Bakhtiari was heard by others. Many single girls come to cyberspace and talk about the strictness of their parents. They are not satisfied with starting their lives as simple as we are, and that is why they are still single. They take guidance from me and they feel sorry for me. It really saddens me to hear that a young man wants to get married and is content to start his life easy, but the wrong customs and strictness of his parents prevent them. It is really sad. Is.
End of message /
.